Chapter 3: Vaccine administration process
March 13, 2021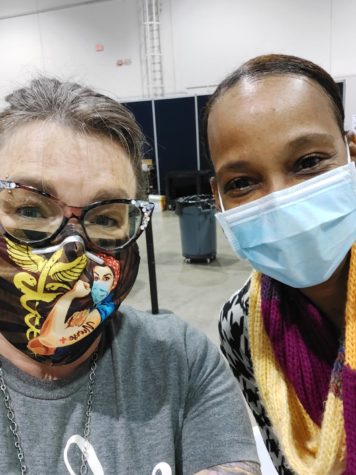 People throughout our community are helping get both the word and the actual vaccines out. Even further up the process of administering vaccines, Susan Lynch, Hospital Administrator for Southern Nevada Adult Mental Health Services (SNAMHS), has worked to successfully vaccinate 50% of the SNAMHS workforce That's 325 employees.
"The experience was challenging in many ways," Lynch said. "In the beginning, we were trying to establish a plan for a point of dispensing (pod) with limited information: would we get the Pfizer or the Moderna vaccine?  Would we need to administer the vaccine within five days of receipt?  How many employees would consent to the vaccine?"
But as the plan evolved, Lynch said her team really pulled together to make it work.  
"The Pharmacy Department kept everyone informed on any updates, collaborated with the health district, and ordered and stored the vaccine," Lynch explained. "The Nursing Department worked tirelessly to administer the vaccines and to provide education and informational materials on the vaccine.  There were various other departments that provided support during the PODs: crowd control and endorsing social distancing, assistance with completing consent forms, monitoring the aftercare area for any people experiencing  adverse reactions, assisting with downloading the V-safe app to report symptom monitoring to the CDC, and keeping the area cleaned and disinfected at all times."
These protocols for efficiency and safety were modeled by various agencies throughout the county, including several locations that eventually offered up the vaccine to teachers.  Beginning in late January, teachers were allowed to sign up, and many will be fully vaccinated by the time high school students return to campus on March 22. Once again, it is evident that by working together through challenging times, we are progressing toward a healthier society.