Chapter 6: Returning to normal
March 13, 2021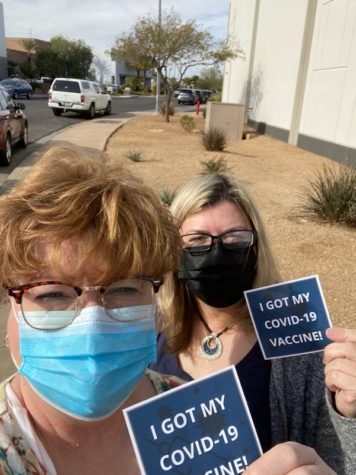 Despite the difficulties faced administering these vaccines, "the vaccine seems to be providing a bit of hope after an extremely difficult year," Lynch said. 
All anyone wants right now is to find a way back to "normal."
By working together, it seems that we can get there. 
"I know how much school means to students, and my heart goes out to the seniors," Ryan said. "I want everyone back in school, playing sports, doing musical performances.  But I want everyone back in safely.  I know that there are people out there who say that children can't spread the virus.  But each school requires adults to make the school function. And at the high school level, you guys have the bodies of adults (some of you), and you can spread it.  It doesn't mean you and your friend would get sick, but you could take it home and spread it, if not safe.  I think if we keep doing what we are doing, social distancing and wearing masks, it does make a difference. I'm hopeful that next year, at least, we'll be back."
After this interview, in fact, CCSD declared that secondary schools would reopen buildings on March 22 for half of high school students, April 6 for the rest.  Students will be in a hybrid schedule to limit class size, and all staff and students will be required to wear masks.
This concern of keeping those around us safe will be what allows for the spread of COVID-19 to slow and eventually stop altogether. 
Geena Donnelly, a Silverado High School senior, has received her vaccines as well and has hope for the normalcy that we are all seeking to see in the future. 
It is evident that those who take the vaccine are doing so to not only protect themselves, but those around them.
Donnelly, who works the Safekey program at Cartwright Elementary, thought getting the vaccine was the right thing to do. 
"I decided to take the vaccine because it would lay a lot of stress off my family because some of them have a low immune system," Donnelly said. "I am also working back at the school with children."
While there are countless arguments for both returning to school and staying online, elementary students have begun to return to school with few reported problems.
It will be interesting for everyone to see how the plan for hybrid learning shapes the remainder of this year for our high school students.
With sports also starting up with the start of hybrid learning, many students' and parents' calls to action have been met.  Many athletes have a chance to get involved with their sports again. However, accommodations will have to be made to play again safely.
It appears that although "normal" is all anyone wants, the current vaccines have not completely cured the world of COVID-19 yet. Although it can be hard to understand the process and how the vaccine really works, the hope that the vaccine has sparked is pulling people together to do what they can to help others. From wearing a mask, to getting the vaccine, to helping administer it, the selfless behaviors of everyday people make the world a healthier place.
For more information, listed below are reputable resources suggested by Megan Ryan
CDC:  https://www.cdc.gov/vaccines/covid-19/index.html,
World Health Organization: https://www.who.int/emergencies/diseases/novel-coronavirus-2019/advice-for-public
Or there are several universities who are researching and post accurate information, such as John's Hopkins University.