LLS fights to save lives
Leukemia and Lymphoma Society raises $10,000 for Student of the Year campaign
Last spring, senior Nicole Garcia took on the honorable role of fulfilling alumni Demi Remolador's legacy to represent the Student of The Year campaign hosted by LLS. LLS stands for the Leukemia and Lymphoma Society, one the largest non-profit blood cancer organizations in the world, investing $1.3 billion in groundbreaking research. LLS's mission is to cure leukemia, lymphoma, Hodgkin's disease and myeloma, and to improve the quality of life of patients and their families. 
Garcia and her team have worked a rigorous seven-week philanthropic leadership development program during which students foster professional skills, such as entrepreneurship, marketing and project management, to raise funds for The Leukemia and Lymphoma Society.  The title Student(s)of the Year, or SOY, is awarded to the candidate or co-candidates in each community who raises the most funds during the competition. 
Inspired by extraordinary women such as Alexandria Ocasio-Cortez, Ruth Bader Ginsberg, and Malala Yousafzaia, Garcia believes that her community, as well as her generation as a whole, can achieve great success and shine light onto the world.
"We consistently see these huge role models doing incredible things that sometimes it's hard to imagine how we can achieve success at the same level at our age," Garcia said. "We are the next generation to be following in the footsteps of these world leaders. This is the first step. My team is filled with the next generation of young leaders ready to take their step into the world to seek change."
Several events were booked during the month of February in an effort to make contributions to the goal. On Feb. 5, Super Bowl weekend, Garcia hosted a virtual spirit day in collaboration with Silverado's Student Council. Student Council donated $1 for every student from Silverado who posted an ad promoting the event and/or posted about what song they hoped halftime performer, The Weeknd, was going to perform at the 2020 Superbowl.
This event singularly helped propel donations to $82 in one day just from Instagram posts. Moreover, a virtual Super Mario Tournament over Discord with one of our beloved band teachers Mr. Sto was held on Feb. 19. On Feb. 26, Garcia and her team hosted their first in-person event at Level up Creamery and Boba!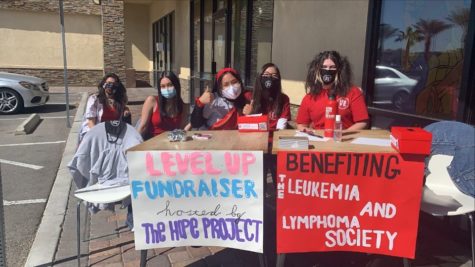 The final push during the last two weeks consisted of really popping bubbles of comfort zones to broaden donations and spread the cause. Although it might sound silly, sometimes asking for donations can be scary or difficult, especially when speaking to businesses. Regardless, Garcia and her team showed endurance through minimizing their fears and affirming that they had lives to change. As the curtains came to a close, The Hope Project had its last event on March 26 at Raising Canes. 
As for the whole experience, it was nothing close to what Garcia had expected. Due to the pandemic, creativity had to be expanded as a new unprecedented system of the planning and execution process was required. But nonetheless, she has made a meteoric impact by saving lives.
When given the opportunity to represent the SOY campaign, Garcia shouted an impulsive "YES!"  despite vague information about her upcoming task. While she knew it would take an extraordinary amount of dedication and determination, Garcia also knew it was too amazing of an opportunity to pass up. Many people, including her family, thought she was crazy for partaking in such a heavy responsibility, but that didn't stop her from knowing her capabilities as a leader. 
"I know myself best, and I knew what I was doing when I said 'yes,'" Garcia said. "I wanted to inspire others, to let them know that if you really care about something even when you have to go through it alone, it is 100% possible. Even when you have 100 other things to worry about, it's possible."
Garcia also credited the incredibly hard-working team working beside her for The Hope Project's success.
From now graduated Jiarra Arce to seniors Lynn Chien, Alyssa Lalos and Koa Tagupa, the team found it to be  a fun and amazing experience. The  team put in their best efforts, aiding each other through tedious work to ensure a smooth road for the seven-week-long journey.
Treading with optimism, team member Sarah Valdez, now a senior,  said she is very proud to be part of The Hope Project. She said she gained professional communication skills as well as contributed to the accolade itself. Valdez especially enjoyed the Level Up fundraiser, which attracted a crowd of supportive friends and family members that generated a refreshing instance from the year of distance.
Interest initially sparked for Lalos when she learned that LLS was something done outside of school that pertained to the medical field, which she is fond of. Additionally, with admiration for Nicole's leadership, Lalos had a gut feeling that big plans would come into play. Whilst hard work was a knitted requirement through joining the team, it was incredibly rewarding overall. 
"My experience thus far has been unlike anything I've ever participated in before," Lalos said. 
Chien was always ecstatic every time she received donations, seeing how it could change someone's life. Her favorite part of the campaign was working with the team to raise money, knowing that it would contribute to advancements in blood cancer research and much more. Chien loves all that the campaign stood for, and she hopes it can continue growing. Planning events and participating in them has been fascinating for her as well.
"I gained a new sense of awareness of the world and just how fortunate I am to be here," Chien said. "It has inspired me to continue aiding the community. I hope to continue spreading the word of this campaign and be a part of similar causes."
And she did just that! Chien and Lalos are continuing Garcia's legacy as they were chosen to represent the 2022 Student of the Year campaign for the Leukemia and Lymphoma Society in the spring of 2022.