New tardy policy hits Silverado
Tardy policies heighten across CCSD, lockouts start up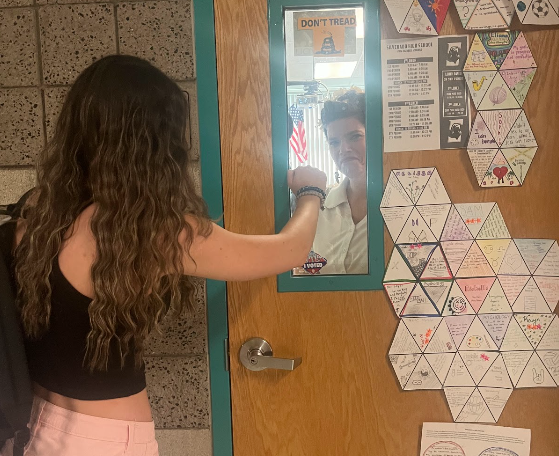 Locking the door during instructional time has been an added rule across the Clark County School District, and while Silverado is no exception, there is now a stricter policy known as the "tardy lockouts."
These tardy lockouts, in which late students are locked out of the room to be gathered by campus monitors, have been met with a flurry of reactions. Though many students are disapproving, teachers are satisfied with the timeliness of students within their classrooms.
Tardy lockouts occur right after the final bell of a passing period when teachers must shut and lock their doors. Any students who roam the halls or come onto campus late without being accompanied by a guardian or without a signed pass will have to head over to Room 404 where they will remain for the rest of the period.
Krysta Ortiz, Silverado's assistant principal specializing in discipline, is heavily involved with the tardy lockout policy, continuously sending emails to students and parents alike to remind and explain how it'll work throughout the year. 
According to Ortiz, the policy is to crack down on "habitually" late students and to ensure the safety of all students.
"Having all students on campus accounted for is important," Ortiz said. "Their whereabouts are known when accounted for." 
"When students are late time after time, [the staff] reaches out to give the support they may need, whether it be transportation or other factors," Ortiz continued. "However, if they continue to be tardy after support is given, disciplinary action is deemed appropriate and will be taken."
While the teachers and administrators approve of this, many students have been in an uproar.
"I think tardy lockdowns are pointless," senior Ashley Perea said. "Classrooms on the other side of campus are hard to get to in under four minutes with a stampede of kids trying to make it on time as well."
Students are heavily encouraged to work on their studies in Rm. 404 as they would in their designated classroom for that period and work remotely on Canvas. 
On Aug. 15, the first day the tardy lockouts were enforced, Rm. 404 first period garnered 134 tardy students. Though first period still tends to have more late students in comparison to the last six class periods, there are currently an average of 30 students in Rm. 404 each period. Less than half of the school's population has been late at some point in the school year so far.
Since this policy began, there has been an added two-minute grace period granted for first period due to district clocks being fast, however, no further changes to the policy are planned.