Skyhawks get spooky
Skyhawks celebrate Halloween in school with elaborate costumes, face paint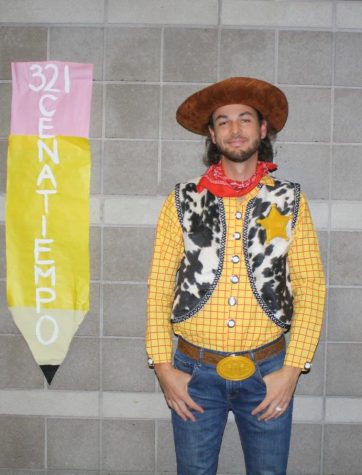 in school on Oct. 31, the Skyhawks were allowed to dress up to celebrate Halloween. 
Sophomore Jamison Vidal dressed up as a frat boy. Vidal last minute decided to match with her friend Jordyn Reynolds. 
"She texted me last night at 6:45 on the dot deciding our costumes for today," says Vidal.
As for staff, math teacher Kurtis Cenatiempo dressed up as Woody from Toy Story. 
During second lunch, there were a few funny blow up costumes like Barney the purple dinosaur, a red among us character, a dinosaur, and surprisingly, a second Barney.
Some students opted out of wearing a costume and put simple face paint on depicting cats, skeletons, scarecrows, etc.