APSU shares, celebrates Asian culture
Asian and Pacific-Islander students gather for fun games and potlucks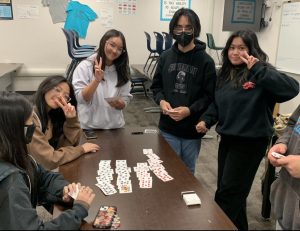 The Asian Pacific Student Union, or APSU for short, is a student organization designed to create a fun, safe and supportive environment for Asian and Pacific-Islander American students. The organization strives to share and celebrate Asian culture with Silverado students regardless of race as anyone is welcome to join and celebrate its beauty and diversity. 
"I want to teach people more about Asian and Pacific-Islander culture and put more influence on the school,"  APSU's president Sofia Balayut told Silverado Star. "I think it's important to have that and just to have a place for a bunch of AAPI kids to talk and converse about their cultures and whatnot."
Club meetings typically consist of playing fun games and activities such as Pekwa, a Filipino card game in which the first to get rid of all of their cards wins, and "Chinese Garter," another Filipino game, similar yet contrary to the game "Limbo," in which players jump over a garter held up high by two people without tripping.
"We learned Pekwa the first few meetings and then we were also learning Tagalog," said APSU's vice president Ren Pham. "We were gonna have Rasleen, one of our other board members, talk about Diwali, but that meeting got canceled since something came up."
Silverado students have benefited sincerely from APSU. The club has created a deeper understanding of Asian culture which students have applied to their daily lives. 
"Diego [one of APSU´s members] came and talked to me because all of his friends are Filipino, and so after we taught him some random Tagalog phrases he was like, 'oh it´'s really nice that I get to learn a little more about their culture,'" Baluyut said. 
APSU also collaborates with neighboring culture clubs at Silverado. On Sept. 29, the Black Student Union and the Asian Pacific Student Union held their very first potluck together. Food and students from different cultures came together to celebrate diversity and unity. Lumpia (Filipino fried spring rolls), Pancit (stir-fried rice noodles), and Bananas Foster were brought to share among club members and anyone else who wanted to join in on the fun. 
Currently, APSU has a movie night planned for Nov. 17. They will be watching "Minari" and eating snacks!
If you or a friend are interested in joining a student organization focused on celebrating and learning about Asian and Pacific Islander culture, or overall just want to have fun while learning more about your community, drop by room 902 on Thursdays at 1:20 p.m.