Skyhawks soar over Shadow Ridge
Varsity Football defends 4A State Champion Title
On Nov. 21, Silverado took on Shadow Ridge for the state championship game held at Allegiant Stadium. The Skyhawks pulled off a "two-peat," defending their title as the 4A division champions, putting up a score of 51-27 for the win.
The crowd had come ready to cheer on Silverado with everything they could, especially the cheer team. Cheer "gets hyped" by using each other's energy on the bus ride there. Earlier in the day, Silverado held a pep rally. Dance and cheer teams performed, and the football team danced in the courtyard during lunchtime.
The first half of the game was a nail biter. Shadow Ridge was able to score and tie Silverado a few times, although they never took the lead."I wasn't nervous at all in the first half because I knew we were a second half team and it showed," said senior Liam Monroe, #28.
Early in the third quarter, the teams were tied at 21, but the Skyhawks soon pulled ahead 28-21. After Shadow Ridge's quarterback got sacked, the Skyhawks took the chance and made a safety. The Mustangs scored once more, then two more touchdowns for us extended our lead. The last 30 seconds of the game, both the team and crowd screamed with excitement as the second state championship was realized. Reigning champs celebrated on and off the field. Seniors were filled with joy and tears. Hugs were shared and days were made.
"I'm at a loss for words right now," Silverado coach Andy Ostolaza said after the game to the Las Vegas Review-Journal. "To have two years like this, with these kids, some who have been with us since freshman year, and have built this program, it's a great feeling for everybody."
Nevada Maxpreps players of the game were Brandon Tunnell, Chris Federico, Donavyn Pellot, and Jaquon Harmon. Senior Caden Harris also deserves praise for his three touchdowns.
The cheer team was also able to make state even more special by giving a halftime performance that was unseen during the regular season.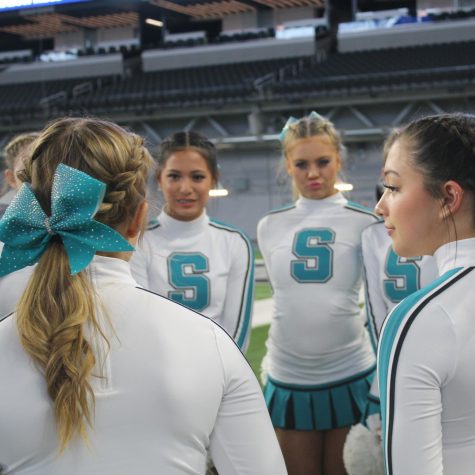 "I'm proud of the cheer team and our performance because we don't normally perform during halftime. We did it and gave our all while performing," said sophomore Alexa Manahl.
During the regular season, the Skyhawks worked hard to stay first in the league. They dominated their opponents with several shut-out scores, such as 65-0 against Chaparral, 43-0 against Sierra Vista, and 43-0 against rival Coronado. Winning state gave them their 24th straight win in addition to becoming 4A Division Champions for a second year.