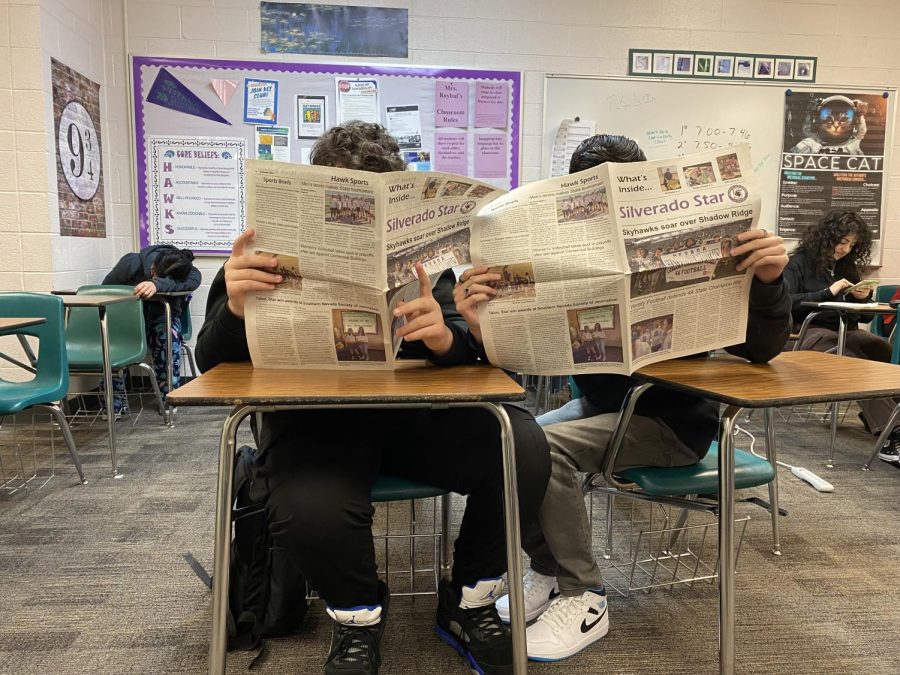 Day in the life of a journalism student
Journalism at first was a class that was just chosen for me because of complications with my electives, and I didn't know whether or not I would like it. There were unknown factors for me as a freshman last year coming into this class, but I didn't focus on that. This class was and presently is enjoyable. Between writing stories that I feel like writing to doing interactive activities as a class, journalism has been a lot of fun, especially this semester. The journalism teacher, Regina Roybal, really helps motivate me and the rest of the students to participate, regardless of how confident you are because in the end, you can always edit what you write.
Journalism Foundations had stuck out at first because of how things were done. Between openers and watching movies and taking notes, it was a class with lots to do, which is always great for a class.
Student David Saldivar had this to say about the class: "Most classes are generally boring and uninteresting, but journalism has been a class I could tolerate and learn in for the past two years."
This year has been no different from the last, with interactive activities that will keep you occupied. Something I see in journalism as a positive is organization; everything is as organized as it can be, with all days planned out for what is being done and more. A personal favorite thing to do within the class would have to be writing stories. Whether it be an interview or an editorial, all types of stories can be interesting and entertaining.
Stories written in journalism class are most usually put in the school newspaper, The Silverado Star, and that's what makes this class so unique; you won't find something like it in any other class. From October to late December, we were on crunch time, writing our stories, revising them, and doing interviews–all so we could get the paper out on time. It was a stressful but exciting time as everything was being wrapped up and completed. Once the paper was completed, Mrs. Roybal as well as the entire class felt relief, as those last few days of editing and completing stories was the most anxiety-filled time of the quarter.
One thing that helps journalism thrive is the teacher, Mrs. Roybal. She stops at nothing to keep students engaged and happy with what they are writing and learning about. Any student who feels uncomfortable with raising their hand and talking in front of the class can come to Mrs. Roybal personally, and she will answer any questions. She does very well at making sure everyone can feel comfortable in their learning environment, and she does not force anything someone doesn't want upon them. She lets us as students talk, interact, and have fun in the classroom while also being able to hold a mature environment for completing assignments and stories.
If you need a class that fits the criteria above, try journalism!