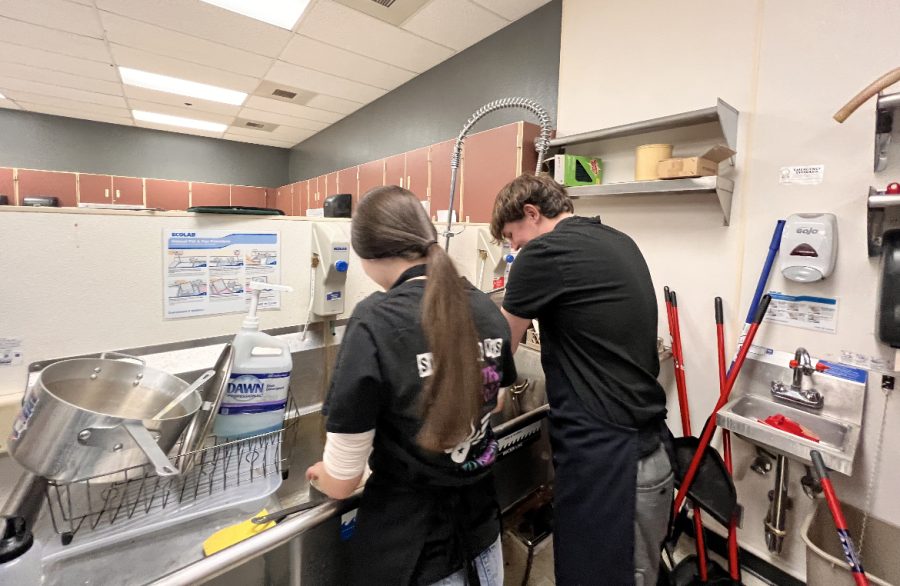 Pavlides' Civic Action Project continues to thrive
This year, I've had the privilege of being a part of the upper-level seniors taking honors and AP U.S. Government with Mrs. Melanie Pavlides. By the end of the year, we must complete the civic action project, consisting of dozens of acts of service and events to participate in the local community and government. 
Seniors must reach 50 points by the project's due date in May. Activities such as participating in a school donation drive or helping teachers clean their classrooms range from 5-10 points, while more rigorous activities like participating in a political rally or participating in a public meeting are worth 25 points.
Senior Desmond Tippins, who is in Mrs. Pavlides's 6th-period class, has already made exceptional progress in his project throughout this first semester and is nearly complete.
"For my civic action project, I have volunteered at soup kitchens, visited local history museums, and helped clean teachers' rooms with Key Club," Tippins says.
The project was started in 2020, and the first thing they accomplished was fixing up the Silverado Closet, which is located in the 200s hallway and filled with donated clothes, hygiene products, and other necessary products available to any student who needs them.
"It was a lot of social media and word of mouth with kids running with it," Pavlides says. "They painted the closet and filled it with donations."
Last year, the Silverado Closet was used by over 75 students, with this year having around 65 users as of December. No questions are asked when a student needs to use it. One student was even able to have a brand new dress for the prom, thanks to these donations.
The goal is really to bring awareness of certain government issues as well as being an example for underclassmen, and to show everybody can have an influence in their own circle," says Pavlides, who teaches all three levels of U.S. government to seniors.
Pavlides' most recent Christmas toy drive received nearly 100 toys, with many of the donations coming from seniors participating in the civic action project or spreading its word. 
"As much of the backlash or students who don't want to participate I get, I do think our spheres of influence at Silverado reach out," Pavlides says. "People at UNLV and even other states know what my students have done."
One former student who currently attends UNLV used what she learned with Pavlides to lobby the State Board of Regents in order to keep the journalism program at UNLV going.
"One thing I'd love to see is students taking pictures of them and their mini Constitutions next to court buildings or museums and make a collage," Pavlides says, referring to copies of the Constitution printed into small booklets. "It'd be really cool to show where the Constitution is put in motion in our community."
"You come to school to learn, but there ends up being people who influence you," Pavlides adds. "That's the civil action project. Some do these activities anyway. I just make them write it down as self-reflection. They complete it and feel that they are a contributing member of society."
Although some activities are something I would've done regardless, like volunteering for Empty Bowls, an annual event Silverado holds supporting our ceramics and culinary programs with proceeds donated to Three Square, it feels great to have additional drive and credit for the hard work students do that may not be recognized otherwise. Many other activities listed, like donating plasma or making a PSA on an important issue, are things that I'd never thought of doing, but now have the ambition and inspiration to do so. 
The civic action project is a great way to get students of all backgrounds involved, and they might possibly end up finding something they're passionate about. I hope the project is something Mrs. Pavlides continues for years to come.