Senior Daniella Elge accepted into Harvard
On Dec. 15, in the back of a CJ's Italian Ice & Custard, senior Daniella Elge learned she was accepted into Harvard University.
Many seniors who applied early to their dream colleges were notified of their college's decision on this date. This included Elge, although she was called to cover a shift at her job earlier that day.
"We were so happy when the decision came out," Elge's mother says. "You don't expect something like this to happen for your child. She's worked so hard all of high school, and we're so glad to see it pay off."
Elge, who heard the news surrounded by her dad, sister and best friend, Brooke Kramer, had applied as an applied mathematics major to the school in October. At the time, she had applied to four other colleges as well, but knew her binding decision to Harvard would take the cake since, in her own words, "Harvard is the best."
"The Harvard community is very involved and connected," Elge says. "I also wanted to go to school with like-minded, motivated people."
While researching colleges junior year, Elge was drawn to the financial aid offered at Harvard. Wanting to pursue medical school as well, building debt was not a route she wanted to go down.
"When I was 11, my mom had a hysterectomy and did not feel cared for by her doctors," Elge says. "I want to be a doctor that cares and to help women like my mother."
Elge has always been a motivated and proficient student, taking 12 AP classes throughout high school and scoring a 1560 and 34 on her SAT and ACT tests respectively. She credits Khan Academy's SAT prep for her math score improving when she took it for a second time.
Despite this, Elge knew that high test scores don't always mean admission to an Ivy League.
"Even the perfect student on paper doesn't have a guaranteed chance of getting in," Elge says. "A lot of luck is involved."
In addition to her academic achievements, Elge also says a big part of an application is extracurricular activities. Hers includes being president of Mu Alpha Theta, captaining the Varsity Swim team, working at CJ's, fostering cats, and being part of the bowling, tennis, and Varsity Quiz teams offered here at Silverado.
"Colleges don't want robots focused on academics or someone to just sit in class for four years," Elge says. "They want to see students on the campus who get involved."
College interviews make up a huge part of their decision, according to Elge. Though not all Harvard applicants are interviewed, Elge had the opportunity to be interviewed by an alum at the local Grouchy John's.
"I did my best to come across as exactly who I was," Elge says. "I didn't know what to expect, so I didn't rehearse. I wanted to paint myself as a genuine person."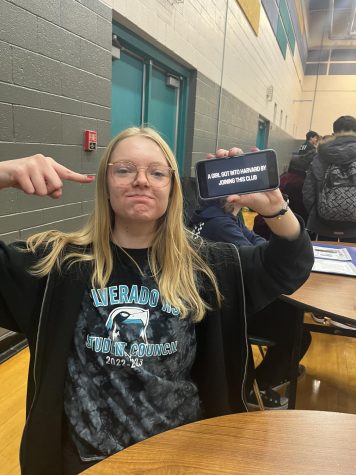 Elge was thorough in her Harvard research, understanding that while more and more people apply each year, the number they admit stays at around 2,000, meaning their acceptance rate steadily decreases each year. She even changed her major during her decision process.
"At first, I was applying as a biology major," Elge explains. "But my stats were stronger in math. I changed it because that's more true to me and what would shine through in my application."
She advises underclassmen to have a strategy for their high school career and really know what college admission officers are looking for.
Elge calls her dad her biggest inspiration, who told her to "not worry and spend life enjoying life."
Elge has already set some standards for entering Harvard.
"Although I'm more interested in math and science, I want to focus more on getting the full liberal arts education Harvard offers and explore humanities classes," she says. "One goal I've set is to have as many different experiences as possible. I don't want to spend college cooped up because it's important to get out and meet new people."
When it comes to Harvard- specific affairs, Elge is getting a head start by doing Visitas in April, which is a weekend for incoming Harvard students to stay on campus and get to know their surroundings and peers.
"I'm also looking forward to their housing system," Elge says. "At the end of first year, you get sorted into a house where you stay for the next three years, and each house is unique."
While Elge finishes her senior year, she also wants to thank her teachers, especially ones she had junior and senior years, as they were crucial in helping her develop her academics and sense of self.