'Wednesday' review: The Outcast Of Outcasts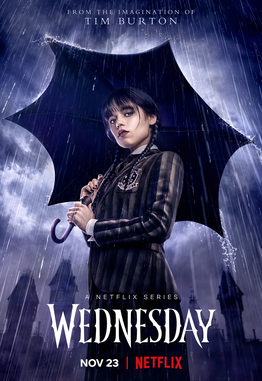 Reaching over 341.2 million hours watched, Netflix's new show "Wednesday" broke the charts when released on Nov. 23. The show was an immediate success. Discussed all over social media, it soon became a must-see.
This horror/comedy is a modern-day rendition of the famous Addams family, first released in 1964 as a television show.
It's uncommon to see gothic coming of age series, making this show unique and surprising, unlike your everyday relatable high school series. It was something new, and people loved it. It features protagonist Wednesday Addams, who spends her days at her new fantasy high school getting into all kinds of trouble and solving gruesome mysteries.
She is a very well-written main character who portrays relatable flaws with a notable past.  As the show progresses, you see the characters grow and change as people, which I thought to be a great touch to the writing and acting.
Seeing as it was directed by Tim Burton, I had high expectations for the series, which were met quite nicely. You could tell it was Burton by the gloomy, grey undertones portrayed in every scene. His style is also notable with the quirky and unique character designs.
I appreciated all of the unexpected plot twists that took the audience by surprise. It almost felt interactive in a way because of this. I felt as though I had to solve the mystery along with the characters, which made this a fantastic film experience.
As for the comedy aspect of the show, I found it to be decent and enjoyable enough. It was definitely binge-worthy due to the number of well-made cliffhangers that left watchers sitting at the edge of their seats.
My personal favorite part of the show is when Wednesday meets Eugene, who is probably one of the best characters in the whole show. I liked him because he was the perfect comedic relief, like the sidekick that every protagonist needs.
The scene in the very beginning when Wednesday drops piranhas in the swimming pool where her brother's bullies are swimming was the scene that truly got us all interested. It was quite morbid, but very clever and almost humorous. Everyone who saw that scene wanted to watch more.
Every scene had clever one-liners and relatable character development. The script was very well written because each character had their own style of speaking and holding conversations. This really made it easy to watch for me.
The end of the show has left us all waiting for a second season. So, will there be one or not? The answer was revealed by the show's Twitter page stating that season two will be released Jan. 6, 2024.