Silverado hosts annual Skyhawk Invitational Track Meet
On April 14-15, the Silverado Skyhawk track was filled with over 200 kids anticipating a plethora of events from the 100-meter dash to the 3200-meter race. These athletes were competing at the annual Skyhawk Invitational, which is one of the biggest track meets on the high school level in Las Vegas. 
During this track meet, we host food trucks, concessions, a throwers/coaches relay, and more fun events.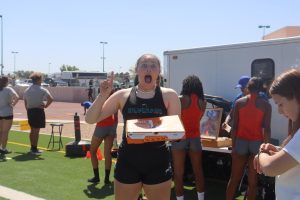 Silverado competes in the 5A division in the NIAA for track and field. 
We hold 40+ regional qualifiers in the 2022-2023 season. These athletes have qualified to compete in the regionals meet held at Liberty High School on May 6.  
Regionals is not State, however athletes who compete at regionals and win in their events will compete in State.
These athletes have proved their athletic ability throughout the meets within this last season. 
 Sophomore Alexa Manahl competed and qualified in two out of four of her events: the long jump at 14 feet, 1 inch, and the 100 meter hurdles, with a qualifying 19.2 seconds.
"I was so excited to find out I qualified for regionals, especially because it's a new and challenging experience, " Manahl said.
We wish good luck to all qualifying and future qualifying athletes!