Creating A Culture At Silverado : Mr. Silverado 2020
Griffin Garcia crowned Mr. Silverado
If Silverado students and staff couldn't get enough of pageant fever, they were in luck during the school's Sadies Week. On Wednesday, Feb. 12 at 6 p.m., 11 senior boys competed for the sought after title of "Mr.Silverado."
Viewers of Mr.Silverado were in for a good time filled with silly dances, impressive talents, and incredible boys who put the effort into winning their deserving titles. The night opened with a group dance performed by all 11 of the contestants that consisted of a mashup of songs such as "Milkshake" and "Pony". They even gave a little tribute to everyone's favorite social media app, Tik Tok, by performing a combination of different popular dances featured on the app!
Hosts Noah Ahina (12) and Nadia Harrara (12) both continued the night for the audience as the boys got ready for their multiple costume changes throughout the show. The next act was the spirit wear runway walk where the boys got to show off their best spirited clothes. Many of the boys showcased the club shirts and athletic uniforms they have received throughout their years at Silverado.
After the spirit walk showcase, the next category was talent. All the boys had different talents that varied from rapping their own original song to playing "Party In The U.S.A." on an electric guitar to performing a stand-up comedy routine. Daxton Cox (12) went over his allotted three-minute time limit with his comedic performance. The crowd just couldn't get enough of him!
The night began closing as the contestants answered the Q&A section of the show where they also showcased their formal wear. The questions ranged from nostalgic ones such as "What was one of your favorite memories from your past four years of high school?" to silly ones like "What was your most embarrassing moment?"
For the past three years, getting senior male contestants to perform in Mr. Silverado has been a struggle. However, this year was the first year over 16 boys signed up and 11 performed. Each of them deserves the title they earned.
After all the talents, dances, and questions, the time came to announce which boys had earned which titles:  Aaron Garza won Mr. Charming, Daxton Cox won Mr. Comedian, Demier Muangsopa won Mr. Sweetheart, Easton Berti won Mr. Spirit, Eric Remolador won Mr. Ladies Man, Marco Maurent  won Mr. Dancing King, Rayden Hackbarth won Mr. Popular  Roy Ruiz   won Mr. Talented, Zakie Tobin won Mr. Trendy and Taylor Finelli won Mr.Model.
Griffin Garcia was awarded the title of Mr. Silverado 2020. He wowed the judges and crowd with his fun stage presence, his exciting spirit wear, and a remix of popular classics performed on his ukulele.
"I'm honestly so grateful for the opportunity to be crowned Mr. Silverado. I was up against unbelievable guys and just so thankful that I was given this title," gushed Garcia.
No matter what title each senior boy won, they all also should be awarded the Mr. Trendsetter title. By pushing themselves and each other out of their comfort zones to perform silly dances and answer nerve-racking questions in front of a packed audience, the boys really created a more inclusive culture here at Silverado. Boys from all different groups, from athletes and musicians to valedictorian candidates, used their unique personalities, together, to create an unforgettable show Silverado students will not soon forget.
Leave a Comment
About the Contributors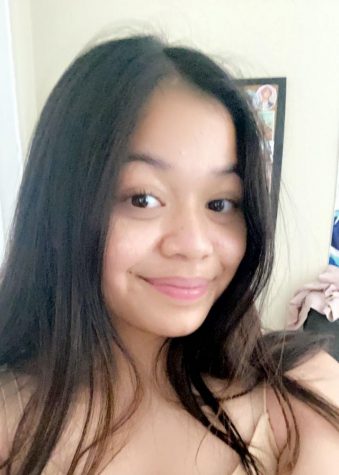 Kristyann Esteron, Editor in Chief
Kristyann Esteron is a senior who has been writing for the Silverado Star for three years and has taken journalism for all four years of high school.

Esteron...