Carder takes on Chapman
Katie to study both art, business while playing softball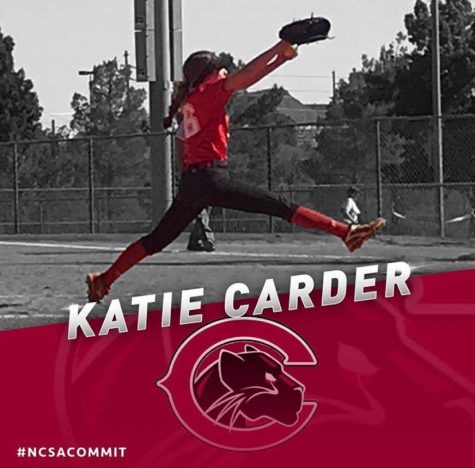 As high school comes to an end and graduation is fast approaching, many athletes are in the midst of saying goodbye to the courts and fields once called home. But some student athletes who put in the dedication and worked hard are lucky enough to receive a chance to continue playing their sport in college.
One of our student athletes at Silverado, senior Katie Carder has accepted her offer to play women's softball at Chapman University in Orange, California, which is a NCAA Division III school.
Carder has been playing softball since she was seven years old. She started searching for college teams at the start of her summer before junior year. Carder started her recruitment process by writing letters to college softball coaches, mainly in Southern California.
In addition to wanting to continue playing softball during her college career, Carder also had to consider the academic aspect the school offered her. Chapman's academic major program is plentiful and includes the two subjects she wanted to pursue: business and art.
"I really wanted to study business and art in college, but not every college has both majors," Carder said. "Chapman offers both, so it really was the perfect mix of everything."
Playing on varsity on Silverado's softball team all four years, endless batting and hitting practices, and the tons of tournaments in and out of town–all seem to come together with Carder's acceptance at Chapman. Besides being an impressive softball player, Carder takes several AP classes, has been involved in Student Council as an underclassman, plays Varsity Tennis and participates in the National Art Honors Society.
Carder has been a huge asset and inspiration to the students here at Silverado. It is no stretch to say that she will make us proud as an incoming freshman at Chapman University.