'Hamilton' comes to Disney plus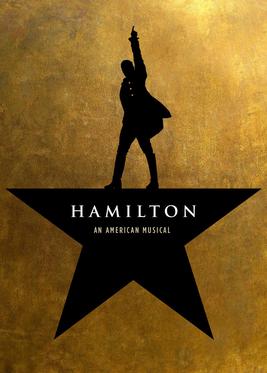 His name is Alexander Hamilton, and he has a story to tell. Taking place in the 18th century, the story of the Caribbean-born immigrant hero and founding father of the US Alexander Hamilton is written by Lin-Manuel Miranda, the star of this production.
"Hamilton" was originally produced in 2016 but then released on the new streaming service Disney Plus on July 3. In 2016, the production was filmed with the original cast of the original Broadway production.
This whole production has characters who have pretty powerful voices to tell the story of Hamilton. I loved the rapping and the music that went along with this production. Lin Manuel Miranda really did an amazing job telling the story of Alexander Hamilton. He truly has an amazing voice and is really creative.
Before you watch, just know there is no spoken dialogue–it's all singing. The production starts out with an overview of Alexander Hamilton's life and relationships in the first song. Hamilton comes from the Caribbean to start a new life in New York where he will not throw away his "shot" by making his mark on history. Then, during the Revolution, he becomes "the right hand man" to George Washington.
Hamilton finds a squad that he fights with which includes Marquis De Lafyaette (played by Daveed Diggs), Hercules Mulligan (played by Okieriete Onaodowan), John Laurens (played by Anthony Ramos) and Hamilton's frenemy, Mr. Aaron Burr, sir (played by Leslie Odom Jr.). So Hamilton fights alongside George Washington to dethrone King George (played by Jonathan Groff). We can't forget about the Schuyler sisters Angelica (played by Renee Elise Goldsberry), Eliza (played by Phillipa Soo), also Hamilton's wife, and lastly, Peggy (played by Jasmine Jones).
"Hamilton" has a very unique style of telling history from each year ,and that's by using song as a way to relay the history of Alexander's story. Rap is used for the theatrics to make the musical come alive. Alexander wants to make a mark on history as a hero, but as backlash comes back to haunt him, his legacy is in doubt.
The marvels of this musical is that Miranda gives biographical character development to each person in Hamilton's story. Eliza Schuyler falls in love with Alexander Hamilton at a winter ball, and they get married two weeks later. Meanwhile the audience finds out that Eliza's sister Angelica Schuyler secretly was in love with Alexander. Later on, Hamilton has an affair with Maria Reynolds (also played by Jasmine Jones). Then Hamilton writes about it in the Reynolds Pamphlet, and that shocked the whole community while he was running for president.
After the war, Hamilton went back to New York to practice law with Aaron Burr in Albany. Alexander passed the bar exam allowing him to practice law, and this legal knowledge eventually leads to the Federalist Papers, which defend the new U.S. Constitution. It was a significant moment in history, and it is described all in song.
When the Reynolds Pamphlet was released, Alexander and Thomas Jefferson were both running for president. In my opinion, the cabinet battle songs between these two founding fathers are marvelous. It's like they are having a normal debate, but in rap. After the revelations of the affair with Maria Reynolds was brought to life. Hamilton was forced to drop out of the race and later replaced by Aaron Burr. Once Hamilton found out Aaron Burr was running, he decided to endorse Thomas Jefferson. That eventually led to Hamilton's demise. Who would have guessed it would be Aaron Burr pulling the trigger? Hamilton and Burr had a duel, and it led to the death of Hamilton.
The ending of Hamilton is breathtaking, and it helps us remember the whole message of the production–to never forget the legacy of how our past has made our future. Overall, I would rate the musical 10 out of 10 and would highly recommend that you watch and enjoy it. It's like having a history lesson through song. It makes it really interesting to watch and learn more of what happened in the past. I promise you won't regret giving this fantastic musical a try.