Silverado athletes stay motivated during pandemic
Working out keeps Skyhawks going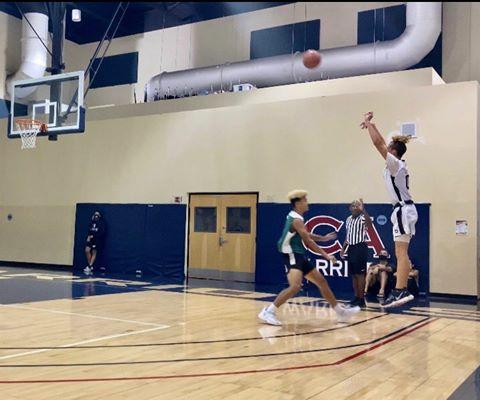 This global pandemic has caused many difficulties for Silverado athletes,  especially when it comes to playing in games and training. Ultimately, many gyms such as 24 Hour Fitness and EoS fitness were closed throughout the summer, and with that loss of revenue, some gyms in Las Vegas are permanently closed. Luckily, some gyms have reopened since the governor lifted many restrictions, with new procedures to follow proper health and safety guidelines.
For Silverado athletes, going to the gym during the pandemic can still be concerning. Some students may not want to risk getting sick, which is possible even with everyone wearing a mask. The x factor for being a great athlete, however, is staying in shape and keeping up with your overall skill and conditioning.
Even with COVID-19, athletes are doing whatever it takes to stay motivated, and they are using the resources that they have, whether that means training from home or social distancing at the gym, going maybe once or twice a week during non-busy hours.
During the pandemic, NIAA has issued a specific rule on how CCSD school athletics will work for the 2020-21 school year as far as when and where the season will start and whether spectators are allowed etc. While winter sports have been cancelled, it is opened we will have fall and spring sports, with reduced seasons, if we come back to campus for 2nd semester. Silverado is very adamant about the importance athletics, so to have an opportunity to still play at a time like this will be very good for the Skyhawks.
Senior Matt Kairys, who plays Varsity Basketball at Silverado High School, normally works out from home to maintain his strength but does get into the gym to build muscle from time to time. He does play basketball in a gym all the time.
"Basketball is what I love to do, and nothing can separate it from me," Kairys said.
Many athletes at Silverado are training and working hard.
Senior Aubrey Bucher, who is on the track team, works extremely hard despite all of the obstacles thrown her way during this pandemic.
"I just thought about my goals and what I wanted to achieve this upcoming season, and I knew if I stopped training, I wouldn't be in shape I needed to be in, ¨ Bucher said.
Having a good mindset and resisting discouragement can help every athlete can work right through this pandemic and succeed. At Silverado, the Skyhawks are hoping to still have a opportunity to play sports during this pandemic, even if it won't be the same time and date as last year.