Silverado installs new turf field
Replacement of grass turf occurring throughout CCSD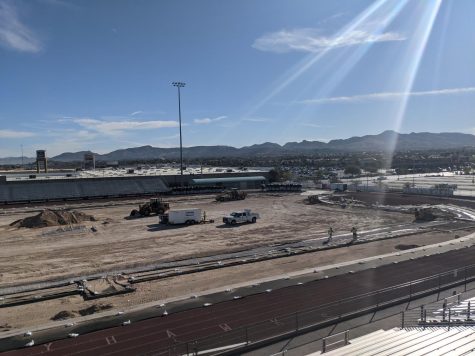 Silverado High School is very passionate about ensuring everything is top notch for students and athletes, including implementing  a new artificial turf football field. Silverado has had a traditional grass field since it opened in the '90s,  so this will be a long-awaited improvement for Skyhawk sports.
The football field will be paid for by CCSD. It will be interesting to see how not only Silverado athletes but Silverado students react to the new turf field when completed as there are no intentions in the field being done this year. In addition to Silverado, all CCSD schools will be having their fields replaced with artificial turf.
Principal Jaime Ditto is happy with decision that all high schools in CCSD will be having their fields replaced with turf and believes it will be beneficial for Silverado
¨The field will be turf, and CCSD decided that it would have a long-term cost benefit to replace all the football fields," Ditto said.
This new turf field will give football players at Silverado a brand new atmosphere to play in as well as extra motivation. Current and former football players at Silverado are already reacting to the new turf field being developed. Senior Kyrell Mcbride, who plays Varsity football at Silverado, is excited about the change.
"The transition to the new turf field to me will be a great difference with fewer mistakes for us," Mcbride said.
Assistant Principal David Bickmore is very excited to find out that Silverado was one of the schools in the district to receive a new football field.
"I agree with the district that it was time for many of our high schools to simply get new football fields, and artificial turf was determined to be the best type of field to install at Silverado High School," Bickmore said.
The CCSD workers have put a plan to convert 29 natural grass fields to artificial turf, which will be outstanding for the Skyhawks as well as other schools. CCSD superintendent Dr. Jesus F. Jara knows just how important the overall health and experience is for athletes.
"Athletics are an important part of keeping students engaged in academics and improving overall health," commented superintendent Dr. Jesus F. Jara in a public statement.